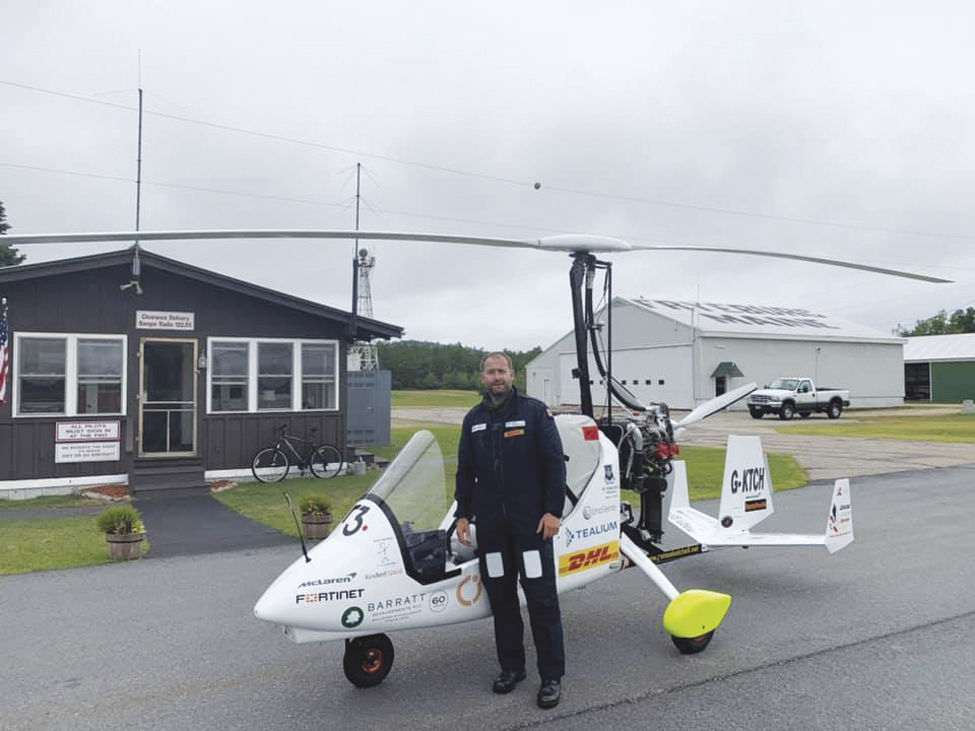 FRYEBURG, Maine — British adventurer James Ketchell dropped into Eastern Slope Regional Airport over the weekend during his personal quest to land in every mainland U.S. state and eventually circumnavigate the globe in an open cockpit gyrocopter.
Ketchell, 37, of Basingstoke, England, started out from Hampshire, England, on March 31. Prior to landing in Fryeburg, he stopped on Nantucket, Mass., for three days as a guest of the Nantucket Flying Association and then spent the night in Marshfield, Mass., before stopping in Concord and then coming up to Fryeburg on Saturday and taking off Sunday morning.
According to jamesketchell.net, a gyrocopter is "a type of rotorcraft that uses an unpowered rotor in free autorotation to develop lift. Forward thrust is provided independently. The autogyro's rotor must have air flowing across the rotor disc to generate rotation, and the air flows upwards through the rotor disc rather than down."
A similar aircraft was used in the 1967 James Bond movie "You Only Live Twice" as well as in the 1981 movie "Mad Max 2: The Road Warrior."
The first gyrocopter was created by Spanish Engineer Juan de la Cierva who was seeking to create "an aircraft that could fly safely at low air speeds," said Ketchell's website, noting he named his creation "Autogiro" in 1923.
Ketchell finished his U.S. journey in Vermont on Sunday.
"Today when I landed G-KTCH in Vermont, I ticked off my final state in the US!" said Ketchell posted on Facebook. "I have now landed & taken off in every mainland US State ... I'm going to miss flying in #America it's been amazing!" he added. "I have many new friends and will likely be back at the end of the year. Moving onto #Canada."
According to a press release, Ketchell will cross the Atlantic and land in Greenland, Iceland and the Danish Faroe Islands before returning to Popham Airfield in Hampshire. The entire trip is supposed to take about six months.
Ketchell reportedly "lacked confidence" as a teenager but now is an adventurer and motivational speaker. He is the only person to have rowed across the Atlantic Ocean (in 2010), climb Mount Everest (2011) and cycle 18,000 miles around the world (2013), according to the press release.
"I'm a normal lad who was a teenager with no motivation to do anything. Now, I know anything can be achieved and I want to help other young people understand there are few barriers to realizing your dreams," Ketchell wrote.
These feats came after Ketchell was injured in a 2007 motorcycle accident in which he broke both legs and was told he would not be able to continue living his "physical lifestyle."
Ketchell supports two charities. One, a UK-based charity that provides free camps to children with health issues, is called Over the Wall. The other is Kindled Spirit, which supports victims of human trafficking.
Along his 22,990-mile trip around the world, Ketchell has been speaking to students with the goal of inspiring 1 million young people and raising money for his favorite charities.
Eastern Slope Airport Manager David Cullinan said he learned Ketchell was coming to Fryeburg after getting a call from a woman from Nantucket.
"I called Concord just to check because we didn't see him on Flightaware because of his low altitude," said Cullinan, referencing a flight tracking and data platform. "He wasn't showing up on the radar."
Cullinan said Ketchell stayed in North Conway and said he seemed like a "very humble guy."
Cullinan, who said he'd never seen a gyrocopter before, noted it had a big fuel tank in the back so Ketchell can cross the Atlantic. He said it can fly at speeds of about 80-85 knots (95 mph).
The airport encouraged people on its Facebook page to come meet Ketchell on Sunday morning before he took off.
Cullinan said several people stopped by to see him.
"Great experience, meeting the pilot and talking with him and other people who came to see his gyrocopter," posted RavenJean Hill on the airport's Facebook page.
Airport Vice Chairman and Conway Selectman Carl Thibodeau said he was pleased to learn of Ketchell's visit.
"I didn't know he was coming, but it speaks volumes about the quality of our airport that he would choose us over the dozens of other places he could have landed," said Thibodeau.
SOURCE https://www.conwaydailysun.com/news/local/brit-adventurer-in-gyrocopter-stops-in-fryeburg/article_f2bc6682-c2a0-11e9-a07f-07a43f62b8fd.html